How do we request a price indication from OX Iron Art
You can call or email us using the contact details below. Or you can request your price indices via our contact form. In both deliveries we will contact you as soon as possible.
What information does Ox Iron Art need to make an appropriate offer for us?
To begin with, it is important that we have your contact details so that we can contact you. In addition, the golden rule "The more information you can provide us, the easier it is for us to give good advice". Consider, for example, drawings, sketches of your existing staircase, photos of the location and situation of the construction project, information about the circumstances and location of assembly, any photos and impressions of your wishes. In terms of styling, choice of materials and surface.
How much does a square meter of forge cost?
Sometimes a customer cannot say exactly what he needs exactly, but immediately wants to know how much it costs per meter. This is possible only for basic models.
It makes sense if a fixed average price can be used per square meter. That question cannot be answered immediately clearly because the price for each wrought iron gate, fence, balustrade, garden gate, French balcony depends on the complexity of the design and the materials used and all additional costs.
We are not aiming for the highest profit at the expense of your wallet. Our company is fond of its reputation and we will never ask you to order products that do not fit into your interior and are unnecessarily expensive.
What is the payment procedure?
At the start of the project, you pay a deposit of 20% of the provisional total amount. For this, among other things, the technical drawing of your design is made.
Only then can the final and correct price of the design be determined. It may then happen that a price adjustment is made.
You will then receive a sample design of your assignment. After you have approved this, the entire order will go into production. You are requested to pay 70% of the remaining amount for the manufacture of your product.
If you have not approved the trial design, we will continue to talk to you in order to arrive at a satisfactory trial design.
Once we have started production, no changes can be made.
When your product is ready to ship, you pay the next 5%.
If we carry out the placement, you pay the remaining 5% after placement.
The percentages may differ for long-term projects.
Is gold leaf also an option like other embellishments?
And of course there are techniques that will make it even more beautiful decoration. For example, very impressive looking white ironwork with a golden patina and possibly gold leaf. As well as forging a black patina. Beautiful, fashionable, antique look. There are so many variations possible. But the possibilities are not limited only with paint. Metal successfully combined with wood and stone, and with non-ferrous metals – brass, bronze. Or with art or glass, mirrors, stained glass, crystals, semi-precious stones, and maybe even something from you. The artist's imagination is limitless, but it is more important to have artistic design material fit into the interior and the owner is happy with what he sees.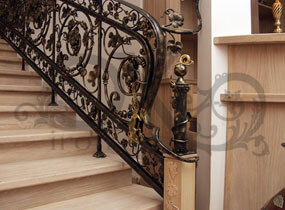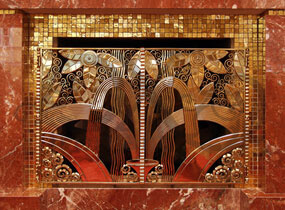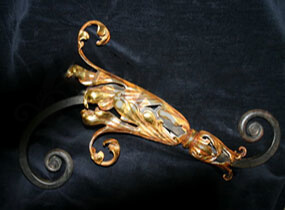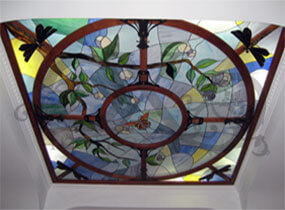 What can you expect from us!
Ox Iron Art
 has more than 20 years of experience in traditional ironwork. We have a high-quality, traditional way of forging for both the business and private market. We only work with regular producers who supply high-quality wrought iron or cast iron from our qualified metal factory. This collaboration provides a good guarantee on hand-forged metal designs. Our creative designers work closely with artisan blacksmiths. This collaboration has already resulted in many fantastic designs. Which you can view on the inspiration page of 
Ox Iron Art
.
We would like to receive advice regarding the design of our product. Can we also go to Ox Iron Art for this?
Of course, you can also contact us for this. We are happy to give appropriate advice in the field of styling and design. We will ensure that your own design and all your wishes are processed in the custom wrought iron gate, custom wrought iron staircase or wrought iron French balcony.
The following items are included in the calculation of the costs:
Development of a design and necessary working drawings.
The amount of metal, wrought iron, cast iron and, for example, brass and bronze.
Anti-corrosion coatings: primers, primer and finishing paints (possibly hot-dip galvanizing).
Decorative finish with e.g. enamel, patina, gilding.
Consumed materials and tools (cutting, stripping wheels, electrodes, gas, coal, etc.)
Treatment of the metal: cutting, stretching, rolling, turning, laser cutting.
Molds (often used in the manufacture of straight and spiral stairs).
The actual forging itself (depending on the number and complexity of the forged parts and also the thickness of the metal)
Assembly, cleaning work, painting, finishing.
Delivery and installation work.
Furthermore, we can explain to you in a personal conversation what we might need more.
If it is possible to order fencing afterwards, and if there is damage to the product after years, Ox can repair it.
We can deliver at any time.
Please do not hesitate to ask your contact person at OX Iron Art.
We only maintain the wrought iron or cast iron supplied by us
How are wrought iron or cast iron treated at Ox Iron Art?
This depends on whether your job is an indoor or outdoor product.
All parts to be painted will be carefully pre-treated with corrosion resistant zinc rich primers followed by heated drying.
Then follows the finishing paint – acrylic enamel, which is suitable for metal.
The color (RAL series) is determined in consultation with you.
With a luxury finish, there is the possibility to choose a gold, silver, antique bronze, copper color or patina application.
We have all outer metal hot-dip galvanized or galvanized. This provides greater protection against corrosion. After this treatment, a primer is applied and then painted in the color of your choice.
After drying, the lacquered product is richly packed in foil and offered for shipment in consultation with you.
Product customization of wrought iron banister, balustrade, garden fence or gate within your budget!
If it turns out that after making the technical design and finally determining the price, your design turns out to be more expensive than expected, we will work with you to see what adjustments are possible so that it still falls within your budget. See the images below for clarification.
– Luxurious appearance
– Simple